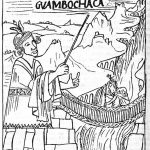 As part of the Seminar in Hispanic Studies, there will be a panel on "Investigaciones actuales en los estudios latinoamericanos: entre lo local y lo global." This will comprise the following presentations:
Gonzalo Lamana (University of Pittsburgh), "¿Pensamiento indígena decolonial? Historia local, historia universal, política y teología en la Nueva corónica y buen gobierno de Guaman Poma de Ayala (ca. 1615)"
Carlos García-Bedoya (Universidad Nacional Mayor de San Marcos), "Para una mundialización no homogeneizadora: hacia una epistemología dialógica intercultural"
Friday October 4, 2013, 2-4pm. FHIS Department Lounge (BuTo 799), 7th Floor, Buchanan Tower.
All welcome. The papers will be circulated in advance (contact Kim Beauchesne for copies). Refreshments will be provided.