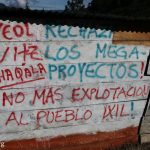 Diane Nelson (Anthropology, Duke) "Beyond Adequacy: Hydro-Electrics and Mayan Power in the Terminal Modern"
Thursday, March 13, 2014, 11:30am
Michael Ames Theatre at the Museum of Anthropology
Reception to follow
This talk draws on close to 30 years of ethnographic work in Guatemala to address post-genocide efforts at repair in the context of extractive mega-projects (like hydro-electric dams). In it I weave contestations for human rights and territory with new Mayan rights struggles that draw on Mayan math (with its relations to space and time via calendrics and sacred areas), itself re-energized by the global fascination with 2012, to re-invigorate "Mayan sabiduria (savoir)" as a lodestone for political power. Drawing on glyph reading and archaeological connections to the past, as well as efforts to make Mayan people "count" via consultas or do-it-yourself referenda that say No to transnational companies, activists make the radical demand that Maya deserve to live "beyond adequacy," to enjoy the promises of "modernity" without always being the ones to shoulder its burdens of loss and displacement.
Plus workshops:
"Before and After/Math"
Wednesday, March 12, 2014, 11:30am
Board Room, Liu Institute for Global Issues
Light lunch will be provided.
"Playing with Dirt"
Wednesday, March 12, 2014, time & place TBA
More details about these workshops
Diane Nelson is Associate Professor of Cultural Anthropology at Duke University and author of A Finger in the Wound: Body Politics in Quincentennial Guatemala (University of California Press, 1999) and Reckoning: The Ends of War in Guatemala (Duke University Press, 2009). Her work examines the impact of civil war on highland indigenous communities, with a focus on the more than 100,000 people made into refugees and 200,000 people murdered, seeking to understand the causes and effects of this violence, including the destruction and reconstruction of community life. She draws on popular culture like jokes, rumors, global TV, and subjugated dreams of a "new race" as well as contemporary theories of political economy, subject-formation, the post-colonial, memory, and ethnic, national, gender, and sexual identifications. Some of her more recent work focuses on laboratory and clinical research on vector and blood-borne diseases like malaria and dengue and the intersection of this knowledge production with health care in the midst of neoliberal reforms and popular demands.
Organized by the Liu Institute working group on "Latin America and the Global." Co-sponsored by the Transitional Justice Network, Latin American Studies, Green College, and the Museum of Anthropology.