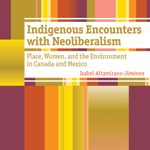 Indigenous Encounters with Neoliberalism: Place, Women and the Environment in Canada and Mexico (UBC Press, 2013)
Book launch and lecture with Isabel Altamirano-Jiménez
Monday, March 10, 2014 from 11am-12pm
First Nations House of Learning, UBC
1985 West Mall, Vancouver
The recognition of Indigenous rights and the management of land and resources have always been fraught with complex power relations and conflicting expressions of identity. In Indigenous Encounters with Neoliberalism, Isabel Altamirano-Jiménez explores how this issue is playing out in two countries very differently marked by neoliberalism's local expressions: Canada and Mexico.
Weaving together four distinct case studies, two from each country–Nunavut, the Nisga'a, the Zapatista Caracoles in Chiapas, and the Zapotec from Juchitán–Altamirano-Jiménez presents insights from Indigenous feminism, critical geography, political economy, and post-colonial studies. These specific examples highlight indigenous people's responses to neoliberalism in their respective countries, reflecting the tensions that result from how Indigenous identity, gender, and the environment have been connected. Indigenous women's perspectives are particularly illuminating as they articulate diverse aspirations and concerns within a wider political framework.
What emerges is a theoretical and empirical discussion of how indigeneity as an act of articulation is embedded in tensions between local needs and global wants. By exploring Indigenous peoples' relations to and in different locations, this study attempts to uncover the complexities of materializing neoliberalism and the fluidity of indigeneity.
Isabel Altamirano-Jiménez (Zapotec) is an Associate Professor in the Department of Political Science and the Faculty of Native Studies at the University of Alberta.