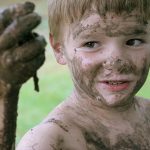 In the wake of Diane Nelson's recent visit to UBC, and her workshop "Playing with Dirt", the Lobby Gallery at the Liu Institute for Global Issues is excited to announce a
Call for Dirt!
In her classic work Purity and Danger anthropologist Mary Douglas analyses pollution and taboo as sociocultural constructs in which dirt is a "matter out of place" (1966). We would like to continue the conversation begun in Diane Nelson's recent workshop at the Liu Institute by exploring Dirt and notions of dirt: the rude, out-of-place, "foreign," unwanted, yucky, smutty, unnerving, filthy, freaky poo that you have been hiding (or not).
You can also choose to muddy those constructs with concepts of groundedness, warmth, darkness, richness and fecundity…
We are looking for items and artifacts* that will fit within a standard milk crate — we'd love to borrow any milk crates you have for the duration of the exhibit ― milk crate dimensions are 12 in x 12 in x 10 in (30.5 cm x 30.5 cm x 25 cm). The Gallery space also has walls from which your art can be suspended.
The show will be mounted at the beginning of May, with the opening reception tentatively scheduled for the latter half of May; date TBA.
Are you down to get dirty? Send a 250 word description by Monday, 14 April 2014 to lobbygallery@gmail.com
We look forward to getting your dirt!
Mascha & Afuwa
Curators for The Lobby Gallery
The Lobby Gallery on facebook
@TheLobbyGallery
*Our Lobby Gallery does double duty as a public rental space that is accessed by people from a wide range of backgrounds — so please be conscientiously dirty!