The Consul General of Mexico requests the pleasure of your company for a reception celebrating the art of Rolando Rojas. The artist will be in attendance.
RSVP to Patricia De la Maza.
Tuesday, August 7, 2012. 5:30pm.
The Chinese Cultural Centre of Greater Vancouver
555 Columbia St, Vancouver, BC V6A 4H5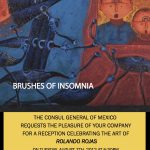 Exhibition: August 1-25, 2012.
1961 East Mall Vancouver, BC V6T 1Z1
Nació en 1970 en el Istmo de Tehuantepec, Oaxaca; lugar inundado de un generoso sol que cala en la piel; donde sus mujeres caminan con suave vaivén, con sus largas faldas y sus huipiles multicolores que hacen de ellas unas largas figuras que culminan en una canasta sobre la cabeza portando el pescado seco o el totopo que llevan al mercado a ofrecer. Rolando las mira, y ahí sentado, en las tardes donde una tímida brisa le regala un descanso momentaneo a la salida de su casa, ve, escucha y sueña con todo lo que este cotidiano mundo zapoteca le regala. Y ahí, frente a él pasan las carretas jaladas por bueyes y se le devela un lenguaje de formas y fantasías, los pájaros de brillantes colores de la región son la apertura de las puertas al color, la tierra de las calles le permite explorar y la imaginación convierte el bule o el guaje en juguete zoomorfo para compartir.
For more details, see the website devoted to Mexican Cultural Events in Vancouver.